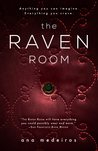 The Raven Room
by
Ana Medeiros
My rating:
5 of 5 stars
4,5 -Raven- Stars!
Julian Reeve is a Child Psychologist and Associate University Professor. He is good at his job. He has also another life which includes kinks, sex clubs...He is a member of very mysterious The Raven Room.
The Raven Room...Noone knows what's happening in there, noone has any information about it and noone can go there without permission. It's a secret, it is a mystery.
Julian Reeve has an interesting love life...mostly a sex life. He doesn't date and when women throw themselves at him...There is always someone in his bed. But his relationship with Meredith is totally different.
Meredith and Julian dont expect anything else from their relationship but sex. They aren't dating but they totally care each other.
Meredith is a journalist and interested in The Raven Room. She wants to write about it. Julian doesn't know about it, ofcourse.
One night they go together to the club.
When Julian saw a woman there, he feels the connection with her. He cannot stop thinking about her. But he doesnt know anything about her.
Till she approaches him...Alana. Mysterious, captivating, sweet, shy, sexy, fascinating Alana...
Alana has secrets she doesn't share with Julian. She doesnt tell her personal information to Julian. She is just Alana.
Julian also has his own secrets, his own demons and his own needs he tries to fight or accept.
During these secrets there is also a murder which seems like related with The Raven Room.
The first twenty percent of the book was so slow. There was no story or not enough connection with characters. I've almost quit reading. I couldn't take the book in my hands for awhile. But then...I'm so glad I kept reading...
The Raven Room is the first book of a trilogy. This book left me with questions and tons of theories in my head.
The end was really good and left you curious. I cannot wait for the second book.
The Raven Room gave me more questions than answers. It didnt explain anything, it just made you ask more and more questions every minute.
If you want to read this book -and I recommend it- have some patience with the book. Wait till Alana comes to the picture cause after that book starts to flow.
*ARC provided via Netgalley in exchange for an honest review*